Press Release
October 17, 2014–ANA, Japan's leading airline group, and Ethiopian Airlines, the flag-carrier airline of Ethiopia, signed a code-share agreement.
*Subject to relevant government approvals.
From October 26, 2014, ANA passengers will be able to book connecting flights on Ethiopian Airlines between Addis Ababa and Bangkok, Hong Kong, Frankfurt, Paris, London, Nairobi and Mombasa through ANA. Ethiopian will place its flight code on ANA's Bangkok and Hong Kong routes.
ANA and Ethiopian Airlines started joint Frequent Flyer Program in December 2011 as both carriers are members of Star Alliance, the largest and oldest global airline alliance. Customers of the two airlines will continue to be able to earn and redeem miles on all flights.
Osamu Shinobe, President and CEO of ANA, said: "We are pleased to welcome Ethiopian Airlines which has the largest network in Africa as our code-share partner and look forward to working together to bring our customers greater choice and convenience across our combined Japanese and African networks."
Ethiopian Airlines Group CEO, Tewolde Gebremariam, said: "I wish to thank ANA, a fellow Star Alliance member, for this mutually beneficial codeshare partnership. Our codeshare partnership will give our customers traveling between Africa and Japan the best possible connectivity options with one ticket and one single check-in at first boarding airport. . it will also play critical role in enabling greater people-to-people, investment, trade and tourism ties between a rising Africa, the second fastest growing region in the world, and a highly industrialized Japan, the third largest economy in the world."

Code-share routes:
ET operating / NH marketing

NH operating / ET marketing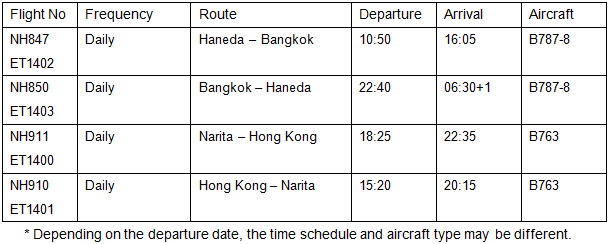 About ANA
All Nippon Airways (ANA) is the largest airline in Japan by passenger numbers. Founded in 1952, ANA flies today on 72 international routes and 115 domestic routes with a fleet of about 240 aircraft. ANA Group has 33,000 employees. In 2013, it carried 46 million passengers and generated revenues of 1.6 trillion Japanese yen. ANA has been a core member of Star Alliance since 1999 and has joint-ventures with United Airlines on trans-Pacific and Asia routes and with Lufthansa, Swiss International Airlines and Austrian Airlines on Japan-Europe routes. Its Frequent Flyer Program, ANA Mileage Club, has more than 26 million members. ANA was voted Airline of the Year for 2013 by Air Transport World Magazine, and was awarded five stars in 2013 and 2014 by the world's leading Airline and Airport review site, SKYTRAX. ANA is the launch customer and biggest operator of the Boeing 787 Dreamliner.
About Ethiopian Airlines
Ethiopian Airlines, a global Pan-African carrier with 70 years history, is currently the largest airline in Africa by revenue, generating 2.4 billion US $ in 2014, and profit. The airline operates to 5 continents, Africa, Europe, North America, South America and Asia, serving 83 international and 20 domestic destinations. It has the largest network in Africa with 49 destinations and the youngest fleet on the continent, such as B777s and B787s, with an average age of 7 years. Ethiopian, a technology leader in Africa, is the first outside Japan to receive and operate the B787 in 2012, and is a member of the largest global airline alliance, Star Alliance. A mutiple award winner for its service, Ethiopian received in September 2014 the Passenger Choice Award as the Best Airline in Africa, in the most comprehensive survey of airline passengers conduced in 13 languages.